Mysore Palace, also known as Mysuru Palace or Amba Vilas Palace, is a historical palace and a royal residence in Mysore, Karnataka, India. It was the official residence of the Wadiyar dynasty and the seat of the Kingdom of Mysore. The palace is in the centre of Mysore, and faces the Chamundi Hills eastward. Mysore is commonly described as the 'City of Palaces', and there are seven palaces including this one. However, the Mysore Palace refers specifically to the one within the old fort. The palace is one of the most famous tourist attractions in India, after the Taj Mahal, with more than six million annual visitors. Visit during Mysore One day tour By cab
Location of Mysore Palace
Mysore Palace is located at Sayyaji Rao Rd, Agrahara, Chamrajpura, Mysuru, Karnataka 570001. It is about 2 km from the Mysore railway station and 15 km from the Mysore airport. It is situated in the heart of the Mysore city, which is the cultural capital of Karnataka.
Timing/Entry Fees Mysore Palace
Mysore Palace is open to visitors from 10:00 am to 5:30 pm on all days of the week. There is an entry fee of Rs 70 for adults and Rs 30 for children for visiting the palace. There is also a fee of Rs 30 for using a camera and Rs 200 for using a video camera inside the palace. However, there is no entry fee for visiting the palace grounds and gardens.
How to Reach Mysore Palace
There are various modes of transport available to reach Mysore Palace from different parts of Karnataka and India.
By air: The nearest airport is Mysore International Airport, which is well connected by flights from major cities in India and abroad. From there, one can take a taxi or a bus to Mysore Palace.
By train: The nearest railway station is Mysore Junction Railway Station, which is well connected by trains from major cities in India. From there, one can take a taxi or a bus to Mysore Palace.
By road: Mysore is well connected by road with other cities and towns in Karnataka and neighboring states. There are regular government and private buses that ply to Mysore Palace from various places. One can also drive to Mysore Palace by car or bike.
Things to Do/Must See Mysore Palace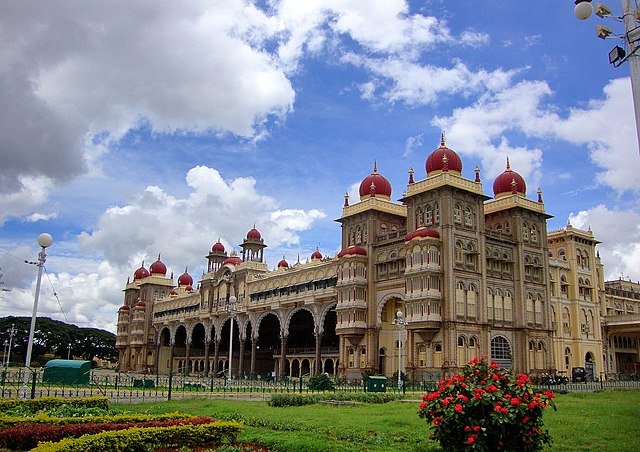 Mysore Palace is a place of historical and architectural interest that offers a lot of things to do and see for the visitors.
Admire the Indo-Saracenic style of architecture of the palace, which combines elements of Hindu, Muslim, Rajput and Gothic styles. The palace has a three-story granite structure with a five-story tower that culminates in a gilded dome. It also has domes, arches, turrets and carvings.
Explore the various rooms and halls of the palace, which display royal artifacts, paintings, weapons, costumes and jewellery. Some of the notable rooms are the Ambavilasa (the private hall), the Kalyana Mantapa (the marriage hall), the Gombe Thotti (the doll's pavilion) and the Durbar Hall (the ceremonial hall).
Witness the spectacular illumination of the palace, which takes place every Sunday and public holiday from 7:00 pm to 7:45 pm. The palace is lit up with nearly 100,000 light bulbs that create a dazzling effect.
Enjoy the cultural programs and events that are held at the palace grounds and gardens. Some of the major events are the Dasara festival (September-October), which celebrates the victory of good over evil; the Sound and Light Show (November-March), which narrates the history of Mysore; and the Flower Show (January), which showcases exotic flowers and plants.
Nearby Tourist Attractions Mysore Palace
There are many other tourist attractions near Mysore Palace that one can explore while visiting Mysore. Some of them are:
Chamundi Hills: A sacred hill that has a temple dedicated to Goddess Chamundi or Durga, who is the patron deity of Mysore. The hill also offers a panoramic view of the city and has a giant statue of Nandi (the bull mount of Shiva).
Brindavan Gardens: A beautiful garden that lies below the Krishnaraja Sagar Dam. It has fountains, terraces, lawns and flower beds. It also has a musical fountain show that is held in the evenings.
Sri Chamarajendra Zoological Gardens: A well-maintained zoo that houses a variety of animals and birds. It has a safari park, a reptile house, an aviary and an aquarium. It also has a conservation and breeding program for endangered species.
Jaganmohan Palace: A former royal residence that has been converted into an art gallery. It has a collection of paintings, sculptures, musical instruments and antiques. It also has a hall that hosts cultural events and concerts.
St Philomena's Church: A majestic church that is built in the Neo-Gothic style of architecture. It has twin spires that are 175 feet high and can be seen from a distance. It also has stained glass windows that depict scenes from the Bible.
Significance of Mysore Palace
Mysore Palace is a significant attraction in Mysore for its historical and architectural importance. It was the official residence of the Wadiyar dynasty and the seat of the Kingdom of Mysore. The palace is a symbol of the rich cultural heritage and royal legacy of Mysore. The palace also hosts the Dasara festival, which is one of the grandest festivals in India, and showcases the art, culture and traditions of Mysore.
FAQ's
Q: What is the best time to visit Mysore Palace?
A: The best time to visit Mysore Palace is during the winter season (November to February), when the weather is pleasant and comfortable. However, one can visit the palace throughout the year as it remains open on all days.
Q: How long does it take to explore Mysore Palace?
A: It takes about 2-3 hours to explore Mysore Palace and its surroundings. One can also spend some more time enjoying the illumination, cultural programs and events at the palace.
Q: Is photography allowed inside Mysore Palace?
A: No, photography is not allowed inside Mysore Palace, except for the Durbar Hall. However, photography is allowed outside the palace and in the palace grounds and gardens.
Conclusion
Mysore Palace is a must-visit place for anyone who wants to experience the historical and architectural beauty of Mysore. It is a palace that showcases the royal splendor and cultural diversity of Mysore. It is also a place that offers a serene and scenic escape from the hustle and bustle of the city life. Mysore Palace is a pride of Mysore and a treasure of India.