Goa is famous for its beaches, nightlife and cuisine, but it also has a rich and diverse cultural heritage that spans centuries. One of the best places to explore this heritage is the Archaeological Museum, located in the historic city of Old Goa one of the famous tourist attraction in Old Goa, visit during Old Goa Sightseeing tour Package. This museum showcases the art, history and archaeology of Goa from prehistoric times to the colonial era.
Location of Archaeological Museum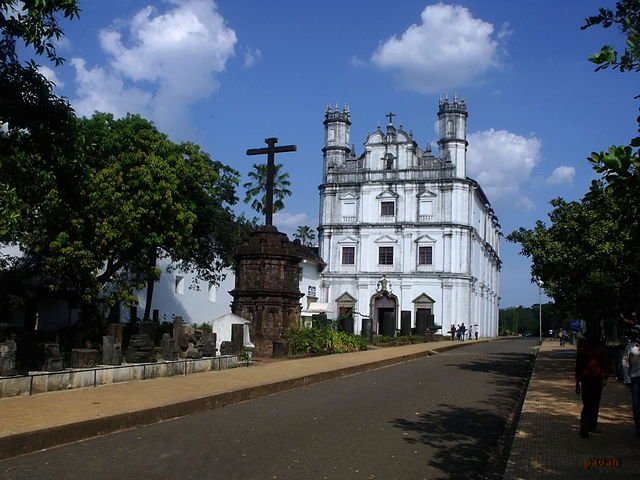 The Archaeological Museum is situated in the convent section of the Church and Convent of St. Francis of Assisi, one of the oldest and most beautiful monuments in Old Goa. Old Goa was the former capital of Portuguese India and a thriving cosmopolitan city until it was abandoned due to plague and malaria in the 18th century. Today, it is a UNESCO World Heritage Site and a popular tourist attraction.
Timing/Entry Fees Archaeological Museum
The museum is open from Monday to Sunday, except on Fridays and public holidays, from 9:00 AM to 5:00 PM. The entry fee is Rs. 10 for Indian citizens and Rs. 100 for foreign nationals. Children below 15 years of age are allowed free entry. Photography is permitted inside the museum, but videography is prohibited.
How to Reach Archaeological Museum
The museum is easily accessible by road from any part of Goa. You can take a bus, taxi, auto-rickshaw or motorcycle taxi to reach Old Goa. You can also rent a car, bike or scooter to explore the area at your own pace. The nearest bus stand is about 1 kilometer away from the museum. The nearest railway station is Karmali, about 5 kilometers away. The nearest airport is Dabolim, about 25 kilometers away.
Things to Do/Must See Archaeological Museum
The Archaeological Museum has eight galleries that display various artifacts, sculptures, paintings, inscriptions and portraits related to the history and culture of Goa. Some of the highlights of the museum are:
The bronze statue of Afonso de Albuquerque, the governor-general and captain of the seas of India, who played a key role in conquering Goa in 1510 CE. He stands at the entrance of the museum, holding a scroll of his achievements.
The diorama of prehistory of Goa, depicting the life of early humans who inhabited Goa about one lakh years ago. It shows their tools, weapons and activities such as hunting and gathering.
The model of ancient city of Chandor, based on the archaeological excavations conducted in the village of Chandor, which was the capital of Goa during the early historical times. It shows the layout of streets, houses, temples and other structures.
The stone sculptures of Hindu deities such as Vishnu, Shiva, Ganesha, Lakshmi and Surya, belonging to the Kadamba period (12th-13th century CE). They are carved with intricate details and expressions.
The hero stones and sati stones that commemorate heroic deaths in battles and self-immolation of widows on their husbands' funeral pyres. They depict scenes of warfare and rituals in relief.
The Persian and Arabic inscriptions that record the grants and donations made by Muslim rulers and nobles to Hindu temples and monasteries in Goa. They show the religious tolerance and harmony that prevailed in Goa during medieval times.
The Portuguese weapons such as rifles, swords and daggers that were used by the Portuguese soldiers and sailors in their conquests and battles in India and abroad. They reflect the military prowess and technology of the Portuguese empire.
The wooden and ivory sculptures of Christian saints such as Francis Xavier, Anthony of Padua, Catherine of Alexandria and John the Baptist that represent the art nurtured under the patronage of the Portuguese rulers of Goa. They are carved with realism and elegance.
The metal bust of Shiva (popularly known as Manguesh) that belongs to the 17th-18th century CE. It was originally installed in a temple in Mangueshi village, but was moved to a church in Old Goa after the temple was destroyed by the Portuguese authorities.
The portraits of governors and viceroys of colonial Goa that depict their official attire and insignia. They include prominent figures such as Vasco da Gama, Francisco de Almeida, Joao de Castro and Luis de Ataide.
The postage stamps that show various aspects of Goan culture such as festivals, dances, costumes, monuments and personalities. They are issued by India Post since 1961.
The museum also has a video show that gives an overview of the history and culture of Goa. It is screened at regular intervals in English and Hindi languages. There is also a publication sale-counter that sells books, brochures and souvenirs related to Goa.
Significance of Archaeological Museum
The Archaeological Museum is one of the most important museums in Goa that preserves and showcases its rich heritage. It is a treasure trove of information and inspiration for anyone who wants to learn more about Goa's past and present. It is also a testimony to the diversity and dynamism of Goan culture that has been influenced by various civilizations over time.
FAQ's
Q: When was the Archaeological Museum established?
A: The Archaeological Museum was established in 1964 by the Archaeological Survey of India (ASI) and reorganized in 1981-82.
Q: What is the style of architecture of the Church and Convent of St. Francis of Assisi where the museum is located?
A: The Church and Convent of St. Francis of Assisi is built in Manueline style with elements of Gothic and Renaissance styles. It has a facade with octagonal towers, arched windows and carved niches.
Q: What is the name of the national poet of Portugal whose statue is displayed in the museum?
A: The name of the national poet of Portugal whose statue is displayed in the museum is Luis Vaz de Camoes (1524-1580). He wrote an epic poem called Os Lusiadas (The Lusiads) that celebrates Vasco da Gama's discovery of India.
Q: What are some other attractions near the Archaeological Museum?
A: Some other attractions near the Archaeological Museum are:
Basilica of Bom Jesus: A UNESCO World Heritage Site that houses the relics of St. Francis Xavier
Se Cathedral: The largest church in Asia that has a golden bell
Church of St. Cajetan: A church modeled after St Peter's Basilica in Rome
Viceroy's Arch: A gateway built by Vasco da Gama's grandson
Museum Of Christian Art: A museum that displays Christian art objects
Conclusion
The Archaeological Museum is a must-visit place for anyone who wants to experience the beauty and diversity of Goan heritage. It offers a glimpse into various aspects of Goan history such as religion, art, architecture, literature, warfare and administration. Whether you visit it during day or night you will be fascinated by its charm and grace.