Location of Jejuri gad
Jejuri gad is a hill fort and a temple complex located in the town of Jejuri in Pune district of Maharashtra, India. The fort and the temple are dedicated to Khandoba, an avatar of Lord Shiva and a popular deity of Maharashtra, Famous Temple in Jejuri, near Pune, Visit during One Day Trip Pune TO Jejuri Prati Balaji By Private car
Opening Timing/ Entry Fees of Jejuri gad
Jejuri gad is open for visitors from 5:00 am to 9:00 pm every day. There is no entry fee for visiting the fort or the temple. However, visitors are expected to pay a nominal donation at the temple for maintenance and cleanliness purposes
Things to Do /Must See Jejuri gad
Jejuri gad is a place of religious and historical importance. Visitors can do the following things at Jejuri gad:
Climb the 200 steps to reach the top of the hill, where the main temple of Khandoba is situated. The temple has a shikhara (spire) with a golden kalasha (pot) and a flag. The temple also has two large bells that were gifted by Chimaji Appa, brother of Peshwa Baji Rao I, after defeating the Portuguese in Vasai
Have a darshan (viewing) of the idol of Khandoba, which is made of panchaloha (five metals) and depicts him riding a horse and holding a sword. The idol is adorned with jewels and flowers. The idol is also flanked by his two wives, Mhalsa and Banai, who are also worshipped as goddesses
Witness the rituals and ceremonies that are performed at the temple, such as abhishek (bathing), aarti (waving of lamps), bhajan (devotional songs), etc. The temple also hosts various festivals throughout the year, such as Champa Shashthi in December, Somvati Amavasya (new moon on Monday), Mahashivaratri in February-March, etc
Explore the other temples and shrines that are located on the hill, such as Sakharbai Temple, Mhalsakant Temple, Kalbhairav Temple, etc. These temples are dedicated to various forms and aspects of Khandoba and his family
Enjoy the scenic view of the surrounding landscape from the hilltop. Visitors can see the Jejuri town, the Karha river, the Purandar fort, etc. from the hill. The hill also offers a spectacular view of the sunset and sunrise
Significance of Jejuri gad
Jejuri gad is considered to be one of the most sacred places for the devotees of Khandoba. Khandoba is regarded as an avatar of Lord Shiva who killed two demons, Mani and Malla, who were harassing people. According to legend, Khandoba chose Jejuri as his abode after killing the demons and married Mhalsa and Banai, who were incarnations of Parvati and Ganga respectively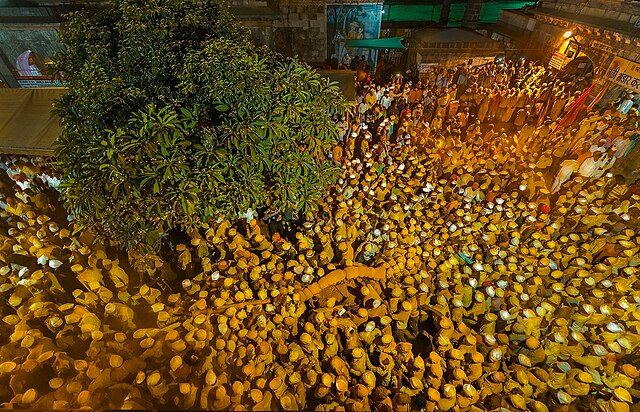 Jejuri gad is also a place of historical importance as it was witness to many battles and events that shaped the history of Maharashtra. The fort was built by Yadavas in 12th century and later controlled by various dynasties such as Bahmani Sultanate, Nizam Shahi, Adil Shahi, Mughals, Marathas, etc. The fort was also visited by many saints and personalities such as Chaitanya Mahaprabhu, Sant Tukaram, Shivaji Maharaj, etc
Jejuri gad is also a place of cultural importance as it showcases the rich heritage and traditions of Maharashtra. The fort and the temple are built in Hemadpanthi style of architecture with stone and lime mortar. The temple also has many paintings and sculptures depicting scenes from Hindu mythology and folklore. The temple also hosts various cultural events such as folk dances, music, puppet shows, etc. during festivals and fairs
FAQ's
Q: How to reach Jejuri gad?
A: Jejuri gad can be reached by road, rail, or air. The nearest airport is Pune International Airport, which is about 60 km away from Jejuri. The nearest railway station is Jejuri Railway Station, which is about 2 km away from Jejuri. From Pune or Mumbai, one can take a bus, taxi, or auto-rickshaw to reach Jejuri. Jejuri is also well connected by road to other cities in Maharashtra and India
Q: When is the best time to visit Jejuri gad?
A: The best time to visit Jejuri gad is from October to March, when the weather is pleasant and cool. This is also the time when the Champa Shashthi festival takes place, which is the main festival of Khandoba and attracts lakhs of devotees and tourists. However, one can visit Jejuri gad anytime of the year as it has a spiritual and historical significance throughout the year
Q: What are the rules and regulations for visiting Jejuri gad?
A: Visitors are expected to follow some rules and regulations while visiting Jejuri gad. These include:
Dressing modestly and respectfully as Jejuri gad is a sacred place for Hindus.
Removing shoes and leather items before entering any temple or shrine on the hill.
Not consuming alcohol, meat, or eggs in Jejuri as it is a vegetarian town.
Not littering or polluting the fort or the temple or its surroundings.
Not taking photographs or videos of people bathing or performing rituals at the temple without their permission.
Respecting the local culture and customs and not disturbing the peace and harmony of the place
Conclusion
Jejuri gad is a must-visit destination for anyone who wants to experience the spiritual and historical vibes of Maharashtra. The fort and the temple offer a serene and scenic view of nature as well as a glimpse of history and mythology. The fort and the temple also host various events and activities that make it a lively and vibrant place. Jejuri gad is a place where one can find peace, joy, and enlightenment.