Bara Imambara is one of the most famous and iconic monuments in Lucknow, the capital city of Uttar Pradesh, India. It is a complex of buildings that includes a mosque, a labyrinth, a stepwell, and a grand hall. It was built by Nawab Asaf-ud-Daula in the 18th century as a famine relief project and as a symbol of his piety and generosity . Bara Imambara is also known as Asafi Imambara or Bhool Bhulaiya, which means "the maze" in Hindi. Visit during One Day Lucknow Sightseeing Trip By Private cab
Location of Bara Imambara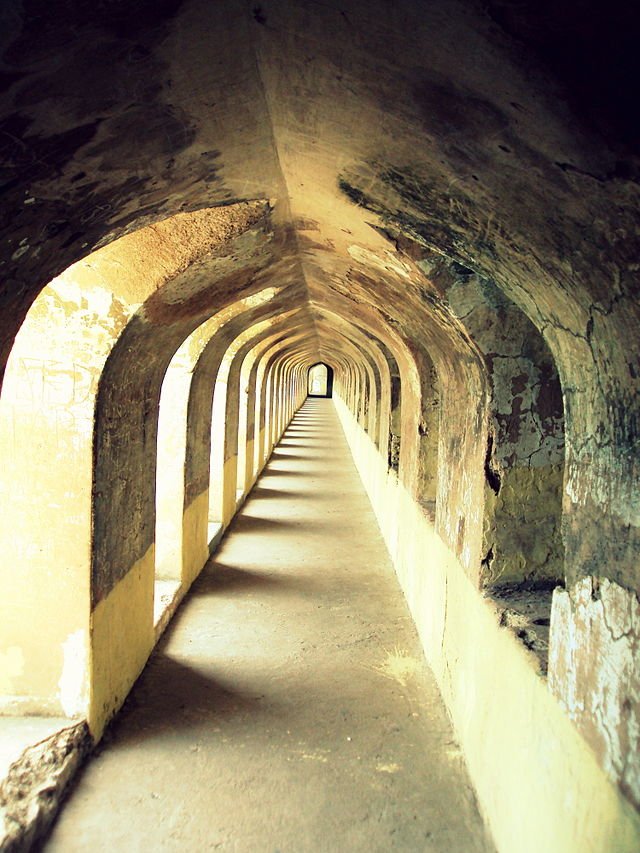 Bara Imambara is located in the old city of Lucknow, near the banks of the Gomti River. It is about 5 km from the Lucknow Railway Station and 14 km from the Chaudhary Charan Singh International Airport. It is easily accessible by public transport, such as buses, taxis, auto-rickshaws, and cycle-rickshaws. It is also close to other tourist attractions, such as Chota Imambara, Rumi Darwaza, Husainabad Clock Tower, and British Residency.
Timing and Entry Fees of Bara Imambara
Bara Imambara is open to visitors from 6 am to 6 pm every day, except on Mondays and public holidays. The entry fee for Indian nationals is Rs. 50 per person, while for foreign nationals it is Rs. 500 per person. There is an additional fee of Rs. 25 for using a camera and Rs. 5000 for using a video camera inside the complex. There are also guides available at the entrance who can explain the history and architecture of the monument for a nominal charge.
Things to Do and Must See of Bara Imambara
Bara Imambara is a must-visit place for anyone who loves history, culture, and architecture. There are many things to do and see inside the complex, such as:
The Grand Hall: The main attraction of Bara Imambara is the grand hall, which is one of the largest vaulted halls in the world. It spans an area of 50 by 16 meters and has a height of 15 meters. It has no pillars or beams to support its roof, which is made of interlocking bricks and lime mortar. The hall has a unique acoustic feature that allows sound to travel from one corner to another. It also has beautiful chandeliers, lamps, carpets, and paintings that adorn its interior.
The Labyrinth: The grand hall leads to a labyrinth of corridors and chambers that are spread over three floors. The labyrinth is known as Bhool Bhulaiya, which means "the maze" in Hindi. It has about 1000 passages and 489 identical doorways that create confusion and disorientation for the visitors. It is said that there are secret tunnels that connect the labyrinth to the Gomti River and other parts of the city, but they are now sealed off. The labyrinth also offers a panoramic view of the city from its rooftop terraces.
The Mosque: The complex also houses a mosque, which is located on the western side of the grand hall. It has three domes and two minarets that are decorated with calligraphy and floral motifs. The mosque has a prayer hall that can accommodate about 2000 people at a time. It also has a courtyard that has a pool and a fountain in the center. The mosque is open only for Muslims who want to offer prayers.
The Stepwell: The complex also has a stepwell, which is located on the eastern side of the grand hall. It is also known as Baoli or Shahi Hamam. It is a five-story structure that has stairs leading down to a water reservoir at the bottom. The stepwell was used as a source of water and as a bathing place for the royals and nobles. It also has chambers and niches that were used as resting places or hiding places during wars.
The Museum: The complex also has a museum, which is located on the first floor of the grand hall. It displays various artifacts and relics related to the history and culture of Lucknow and Awadh. It showcases weapons, coins, paintings, photographs, manuscripts, pottery, costumes, jewelry, and other items that belong to different periods and dynasties.
Significance of Bara Imambara
Bara Imambara is not only a monument of historical and architectural importance but also a place of religious and cultural significance. It was built by Nawab Asaf-ud-Daula as a famine relief project during the Mughal era when there was a severe drought in Awadh . He employed thousands of workers and artisans who were facing starvation and poverty. He also provided food and shelter to them and their families.
He built the complex as a place of worship and charity for the Shia Muslims who commemorate the martyrdom of Imam Hussain, the grandson of Prophet Muhammad, during the month of Muharram . The complex also reflects the syncretic culture and tolerance of Lucknow, where people of different faiths and backgrounds coexist peacefully. The complex is a symbol of the glory and generosity of the Nawabs of Awadh, who patronized art, literature, music, and cuisine in their kingdom.
FAQ's
Q: How long does it take to visit Bara Imambara?
A: It depends on your interest and pace, but generally it takes about 2 to 3 hours to explore the entire complex.
Q: Is there a dress code for visiting Bara Imambara?
A: There is no strict dress code, but it is advisable to wear modest and comfortable clothes that cover your shoulders and knees. You should also remove your shoes before entering the mosque and the grand hall.
Q: Is there a locker facility for storing valuables at Bara Imambara?
A: Yes, there is a locker facility available at the entrance where you can store your valuables for a nominal charge.
Q: Is there a cafeteria or restaurant at Bara Imambara?
A: No, there is no cafeteria or restaurant inside the complex, but there are many eateries and street food stalls outside the complex where you can enjoy the famous Lucknowi cuisine.
Q: Is photography allowed inside Bara Imambara?
A: Yes, photography is allowed inside the complex, but you need to pay an extra fee of Rs. 25 for using a camera and Rs. 5000 for using a video camera.
Conclusion
Bara Imambara is a must-see attraction for anyone who visits Lucknow. It is a masterpiece of architecture and engineering that showcases the rich history and culture of Awadh. It is also a place of worship and charity that reflects the spirit of humanity and harmony. Bara Imambara is a monument that will leave you spellbound and amazed by its beauty and grandeur.