Bhakt Pundalik Temple Pandharpur is a Hindu temple dedicated to Pundalik, a saint who is credited with bringing Vitthal, a form of Vishnu or Krishna, to Pandharpur. It is located near the bank of the Chandrabhaga river, close to the main Vitthal Rukhamini Temple. It is a small temple that commemorates the devotion and humility of Pundalik towards his parents and God. Visit during Pandharpur One day trip
Distance From City Center Location of Bhakt Pundalik Temple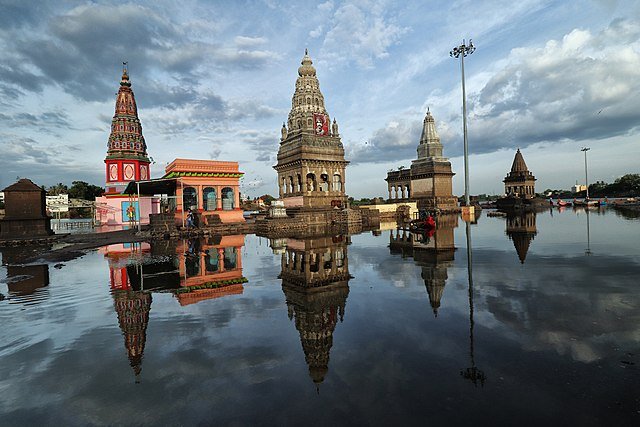 Bhakt Pundalik temple is situated about 1.5 km from the city center of Pandharpur. The nearest railway station is Pandharpur, which is connected to major cities like Mumbai, Pune, Solapur, and Hyderabad. The nearest airport is Solapur, which is about 75 km away.
Timing/Entry Fees Location of Bhakt Pundalik Temple
Bhakt Pundalik temple is open daily from 6:00 am to 11:00 pm. The entry to the temple is free for all devotees. However, there are special darshan tickets available for those who want to avoid long queues and have a closer view of the idols at the main Vitthal Rukhamini Temple. The tickets cost Rs. 50 per person and can be purchased online or at the temple premises.
How to reach Location of Bhakt Pundalik Temple
There are various modes of transport available to reach Bhakt Pundalik temple. One can take a bus, taxi, auto-rickshaw, or cycle-rickshaw from the railway station or the city center. There are also special buses and trains that run during the peak seasons of Ashadhi Ekadashi and Kartiki Ekadashi, when lakhs of devotees visit the temple as part of the Warkari tradition.
Things to Do / Must See Location of Bhakt Pundalik Temple
There are many things to do and see at the temple complex and its surroundings. Some of them are:
Darshan of Pundalik: The main attraction of the temple is the darshan of the idol of Pundalik, which is made of white stone and depicts him standing on a brick with his hands folded. The idol is believed to be swayambhu (self-manifested) and has a unique story behind it. According to legend, Pundalik was a devoted son who served his parents with utmost care. Once, he was visited by Lord Vishnu, who came to bless him for his service.
However, Pundalik was busy attending to his parents and asked Vishnu to wait outside on a brick. Vishnu was impressed by his devotion and agreed to wait. Pundalik later came out and apologized to Vishnu for making him wait. Vishnu was pleased with his humility and asked him what he wanted as a boon. Pundalik requested Vishnu to stay on the brick and bless all his devotees who come to Pandharpur. Vishnu agreed and took the form of Vitthal, standing on the brick with his hands on his hips.
Chandrabhaga River: This is a holy river that flows near the temple complex. It is also known as Bhima or Bhimarathi. It is believed that taking a dip in this river can wash away all sins and cure diseases. The river also hosts many religious ceremonies and festivals throughout the year.
Vitthal Rukhamini Temple: This is the main temple in Pandharpur that houses the idols of Vitthal and Rukmini, his consort. It is located about 500 meters from the Pundalik Temple and is one of the most visited temples in Maharashtra. It has a Hoysala style of architecture with intricate carvings and sculptures depicting various scenes from Hindu mythology.
Other Temples: There are many other temples within the temple complex that are dedicated to various deities and saints associated with Vitthal worship. Some of them are Radha-Krishna Temple, Rakhumai Temple, Garud Temple, Narasimha Temple, Dnyaneshwar Temple, Tukaram Temple, Eknath Temple, etc.
Significance of Location of Bhakt Pundalik Temple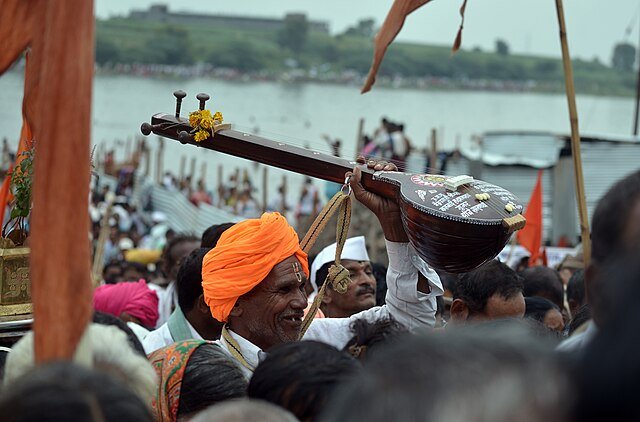 The temple has a great significance for the followers of Vaishnavism, especially the Warkari sect. The Warkaris are a group of devotees who follow a tradition of walking from their homes to Pandharpur in groups called Dindi (procession) twice a year, on Ashadhi Ekadashi (11th day of bright half of Ashadh month) and Kartiki Ekadashi (11th day of bright half of Kartik month). They carry the padukas (footprints) of various saints like Dnyaneshwar, Tukaram, Eknath, etc.,
Who were instrumental in spreading Vitthal bhakti (devotion) in Maharashtra. They sing abhangs (devotional songs) and chant Haripath (a collection of verses praising Hari or Vitthal) along their journey. They consider Vitthal as their beloved friend, father, mother, brother, or lover, and express their love for him through various forms of art like music, dance, poetry, etc.
The temple is also significant for its history and legend. It was built by Pundalik himself after he received the boon from Vishnu. It marks the spot where Vishnu waited for Pundalik on a brick and became Vitthal for his devotees.
FAQ's
Q: What are the timings for darshan?
A: The timings for darshan are from 6:00 am to 11:00 pm daily.
Q: What are the special darshan tickets?
A: The special darshan tickets are tickets that allow devotees to have a closer view of the idols at the main Vitthal Rukhamini Temple without waiting in long queues. They cost Rs. 50 per person and can be purchased online or at the temple premises.
Conclusion
Bhakt Pundalik Temple Pandharpur is a sacred place for all Hindus who worship Pundalik as their ideal devotee and Vitthal as their supreme lord. It is a place where one can experience peace, joy, love, and devotion in abundance. It is a place where one can connect with their inner self and feel closer to God.