Christ Church Shimla is the second oldest church in North India, after St John's Church in Meerut. It is a prominent landmark of Shimla, the capital city of Himachal Pradesh, India. Built in the neo-Gothic style in 1857 to serve the largely Anglican British community in what was formerly called Simla, Christ Church is situated on The Ridge, which is the main square of the city. One Day Shimla Local Sightseeing Trip By Private Cab
Christ Church is a place of worship, history and culture that attracts tourists and locals alike. Visit during One Day trip Shimla Local Sightseeing Package – Visit Famous Place
Location of Christ Church Shimla
Christ Church Shimla is located on The Ridge, which is about 350 km away from Delhi, the capital of India. The Ridge is easily accessible by road, rail and air from various parts of India. The nearest airport is Chandigarh International Airport, which is about 120 km away from Shimla. The nearest railway station is Shimla Railway Station, which is about 2 km away from The Ridge. There are also regular bus services to Shimla from Delhi, Chandigarh, Manali and other cities.
Timing/Entry Fees Christ Church Shimla
Christ Church Shimla is open for visitors from 8:00 am to 6:00 pm every day. There is no entry fee for visiting Christ Church, but there are charges for photography and videography. The photography charge is Rs. 50 per camera, and the videography charge is Rs. 100 per camera.
How to Reach Christ Church Shimla
Christ Church Shimla can be reached by road from various parts of Shimla and nearby towns. There are auto rickshaws and taxis available for hire from the railway station, bus stand and other places. Alternatively, one can walk or cycle to Christ Church from nearby areas.
Things to Do/Must See Christ Church Shimla
There are many things to do and see at Christ Church Shimla, such as:
Praying: The main attraction of Christ Church Shimla is praying and seeking blessings from God. The church conducts worship services in Hindi and English every Sunday at 10:30 am and 11:30 am respectively. The church also celebrates various festivals such as Christmas, Easter and Harvest Festival with great fervour and joy.
Admiring: The church also has some architectural and artistic features that are worth admiring. The church has a simple but elegant interior with stained glass windows that depict the Christian virtues of faith, hope, charity, fortitude, patience and humility. The church also has a pipe organ that was installed in 1899 and renovated in 1932. The church also has a clock tower that was donated by Colonel Dumbleton in 1860.
Exploring: The church also has some historical and cultural significance that are worth exploring. The church was built during the British colonial rule and witnessed many important events such as the Simla Conference of 1945 that discussed the partition of India. The church also has some memorials and plaques that honour the British soldiers who died in various wars. The church also has a library that has some rare books and manuscripts.
Shopping: The church also has some souvenir shops that sell various items such as candles, crosses, books, cards and handicrafts. The shops also support some charitable causes such as education and health care for the poor and needy.
Christ Church Shimla Nearby Tourist Attractions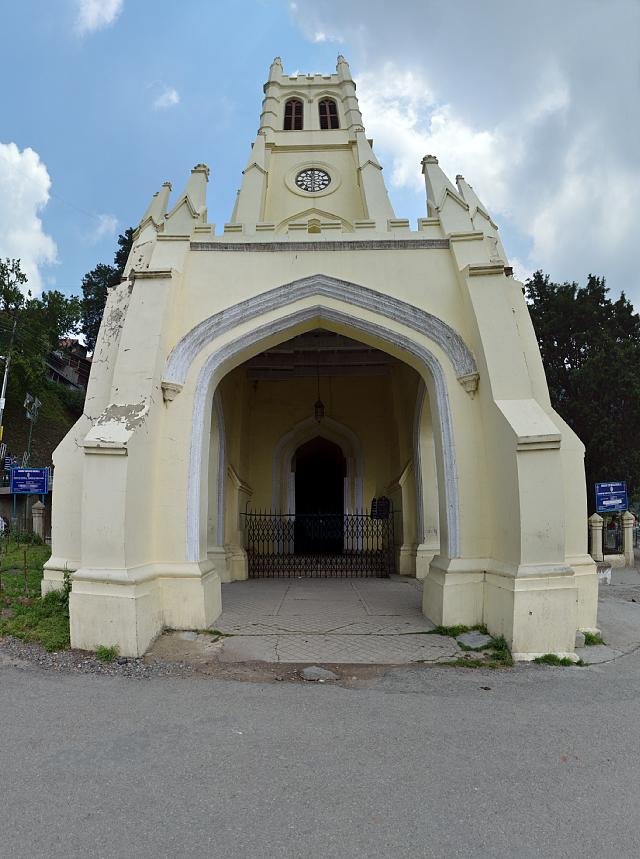 There are many other tourist attractions near Christ Church Shimla that are worth visiting, such as:
The Mall Road: This is a pedestrian-only zone that offers a variety of attractions such as shopping, dining, entertainment and sightseeing. The Mall Road also has some historical and cultural landmarks such as Scandal Point, Kali Bari Temple, Town Hall Building and Gaiety Theatre.
Jakhoo Hill: This is the highest peak in Shimla that offers a bird's eye view of the city. Jakhoo Hill also has a Hindu temple dedicated to Lord Hanuman, who is believed to have rested here while searching for Sanjeevani herb.
Viceregal Lodge: This is a majestic building that served as the residence of the British Viceroy of India from 1888 to 1947. Viceregal Lodge also houses the Indian Institute of Advanced Study (IIAS) that conducts research in humanities and social sciences.
Annandale: This is a picturesque valley that was used as a playground by the British for polo, cricket and golf. Annandale also has an Army Heritage Museum that displays various weapons, uniforms and medals.
Significance of Christ Church Shimla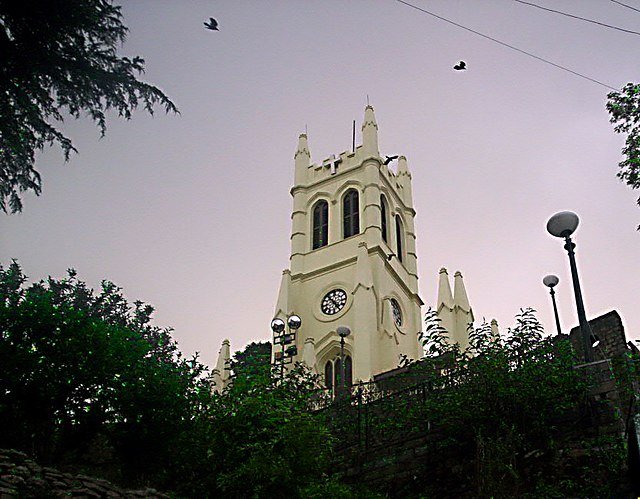 Christ Church Shimla is not only a tourist attraction, but also a source of pride and joy for the people of Shimla. It is a place that celebrates the spirit and culture of the hill town. It is also a place that reflects the diversity and harmony of Shimla, as it has people of different religions, such as Hinduism, Christianity and Islam, who visit and worship here. It is also a place that preserves the historical and architectural heritage of Shimla, as it has a building and structure that date back to the colonial era.
FAQ
Q: How big is Christ Church Shimla?
A: Christ Church Shimla is about 90 feet high and 60 feet wide.
Q: How old is Christ Church Shimla?
A: Christ Church Shimla was built in 1857 and consecrated in 1857.
Q: What is the best time to visit Christ Church Shimla?
A: Christ Church Shimla can be visited throughout the year, as the climate is pleasant and cool. However, the peak season is from April to June and from September to November, when the weather is clear and sunny.
Conclusion
Christ Church Shimla is a must-visit destination for anyone who wants to experience the charm and beauty of the Queen of Hills. It is a place where one can pray, admire, explore and shop in a serene and majestic atmosphere. It is a place where one can enjoy the views of nature while listening to the hymns and bells. It is a place where one can experience the glory and spirit of Shimla.