Panchgani is a hill station in Maharashtra, India, that is famous for its natural beauty and pleasant climate. One of the most popular attractions in Panchgani is Parsi Point, a viewpoint that offers a panoramic view of the Krishna Valley and the Dhom Dam.
In this article, we will tell you everything you need to know about Parsi Point Panchgani, including its location, timing and entry fees, how to reach, things to do, significance, and some frequently asked questions. Pune to Mahabaleshwar Panchgani One day trip by cab
Parsi Point Location/ Timing and Entry Fees
Parsi Point is located on the way from Mahabaleshwar to Panchgani, about 2 km before the main town. It is situated on a cliff that overlooks the valley and the lake.
The point is open from 6 am to 6 pm every day. There is no entry fee for visiting Parsi Point. However, you may have to pay a small parking fee if you are driving your own vehicle.
How to Reach Parsi Point
Parsi Point is easily accessible by road from both Mahabaleshwar and Panchgani. You can take a bus, taxi, or auto-rickshaw from either of these places to reach Parsi Point. Alternatively, you can also hire a bicycle or a scooter and enjoy the scenic ride along the winding roads.
If you are coming from Mumbai or Pune, you can take a train or a bus to Satara or Wathar and then take a local transport to Panchgani. From there, you can take another bus, taxi, or auto-rickshaw to Parsi Point.
Things to Do / Must See Parsi Point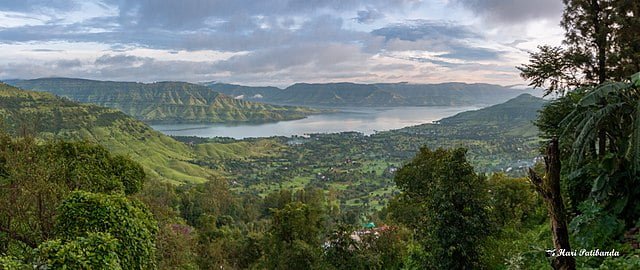 Parsi Point is a must-see spot for nature lovers and photographers. You can enjoy the breathtaking view of the valley and the lake from different angles and capture some amazing shots. You can also see the Kamalgad Fort and the Table Land from The Point.
Apart from admiring the view, you can also indulge in some fun activities at The Point. There are several stalls that offer snacks, beverages, souvenirs, and games. You can try some local delicacies like corn, bhel puri, ice cream, and tea. You can also play some games like shooting balloons, ring toss, and horse riding.
If you are looking for some adventure, you can also try paragliding at The Point. There are several operators that offer paragliding services at reasonable rates. You can soar in the sky and enjoy the aerial view of the valley and the lake.
Significance of Parsi Point
Parsi Point is named after the Parsi community that used to visit this place frequently in the past. The Parsis are followers of Zoroastrianism, an ancient religion that originated in Persia. They migrated to India around the 8th century CE to escape persecution by the Muslim invaders.
The Parsis are known for their culture, cuisine, and philanthropy. They have contributed significantly to the development of India in various fields like industry, education, medicine, and arts. Some of the famous Parsis in India are Jamsetji Tata, Ratan Tata, Homi Bhabha, Zubin Mehta, Freddie Mercury, and Rustomji Cowasji.
The Point is a symbol of the Parsi heritage and their love for nature. It is a place where they used to relax and enjoy the beauty of the surroundings. It is also a place where they used to celebrate their festivals like Navroz (New Year) and Pateti (Day of Repentance).
FAQ's
Q: Is Parsi Point suitable for children?
A: Yes, Parsi Point is suitable for children as it has many stalls that offer games and snacks. However, parents should keep an eye on their children as there are no railings or fences at the edge of the cliff.
Conclusion
Parsi Point Panchgani is a must-visit place for anyone who loves nature and history. It offers a stunning view of the valley and the lake along with some fun activities and delicious food. It also showcases the rich culture and legacy