If you are looking for a place to visit near Pune that offers a blend of history, culture, nature, and adventure, then Sinhgad Fort is a perfect choice for you. Sinhgad Fort is an ancient hill fortress located at around 35 km southwest of Pune, on the Bhuleswar range of the Sahyadri Mountains. Sinhgad fort has witnessed many battles and events that shaped the history of Maharashtra, especially during the Maratha Empire.
It is also a popular destination for trekkers, nature lovers, and photographers who want to enjoy the scenic views of the valleys, forests, and waterfalls around Sinhgad fort. In this article, we will tell you everything you need to know about Sinhgad Fort, such as its location, timing, entry fees, how to reach, history, significance, FAQs, and conclusion. Visit sinhgad Fort During Pune to Sinhagad Fort One day Trip by cab
Sinhgad Fort Location:
Sinhgad Fort is located at a distance of about 35 km from Pune city, in the Pune district of Maharashtra. Sinhgad fort is situated on a hill that rises about 760 metres above the ground and 1,312 metres above mean sea level. The fort overlooks the Khadakwasla Dam and the Panshet Dam on one side and the city of Pune on the other. The fort is also surrounded by many other forts such as Rajgad, Torna, Purandar, and Lohagad.
Sinhgad Fort Timing/Entry Fees:
Sinhgad Fort is open for visitors from 9:00 am to 6:00 pm every day. The entry fee for the fort is Rs. 20 per person for Indians and Rs. 300 per person for foreigners. There is also a parking fee of Rs. 50 for two-wheelers and Rs. 100 for four-wheelers. The fort also has a museum that displays various artefacts related to the history and culture of Sinhgad fort. The museum is open from 10:00 am to 5:00 pm and charges Rs. 5 per person for entry.
How to Reach Sinhgad Fort:
Sinhgad Fort can be reached by various modes of transport from Pune. The most convenient way to reach Sinhgad fort is by car or taxi, which takes about an hour to reach the base of the fort. There are two routes that can be taken from Pune: one via Sinhagad Road and another via Katraj-Dehu Road. Both routes are well-maintained and offer scenic views along the way.
Another option to reach the fort is by bus. There are regular buses operated by Maharashtra State Road Transport Corporation (MSRTC) that ply from Swargate Bus Stand in Pune to Sinhagad Fort. The bus fare is around Rs. 50 per person and takes about two hours to reach the destination.
The third option to reach the fort is by train. There are local trains that run from Pune Junction Railway Station to Sinhagad Road Railway Station, which is about 15 km away from the fort. From there, one can take a bus or a taxi to reach the fort.
The fourth option to reach the fort is by trekking. There are many trekking trails that lead to the fort from different directions. The most popular one is from Atkarwadi village, which is about 12 km away from the fort. The trek takes about three hours to complete and passes through forests, fields, and rocky patches. The trek is moderately difficult and requires good stamina and endurance.
History of Sinhgad Fort:
Sinhgad Fort has a long and rich history that dates back to over two thousand years ago. According to some sources, the fort was built by the Satavahana dynasty around the 1st century BCE. The caves and carvings in the Kaundinyeshwar temple inside the fort indicate that it was an ancient place of worship.
The fort was later captured by various dynasties such as the Rashtrakutas, Yadavas, Bahmanis, Nizamshahis, Adilshahis, Mughals, Marathas, British, and Peshwas. The fort was originally called Kondhana after a sage named Kaundinya who lived there.
The most famous event in the history of Sinhgad Fort was the Battle of Sinhagad in 1670 CE. This was when Chatrapati Shivaji Maharaj's general Tanaji Malusare led a daring attack on the fort with a small army of Marathas against a large force of Mughals
Battle for control in 17th century:
Sinhgad Fort was one of the first forts that Chatrapati Shivaji Maharaj recaptured from the Mughals after breaking the Treaty of Purandar. The capture was made possible by scaling the walls at night with rope ladders. In this battle, both Udaybhan Rathore and Tanaji Malusare were killed, but the fort was captured by the Marathas. The battle and Tanaji's exploits are a popular subject for Marathi ballads.
Attack on the garrison:
The Mughal garrison at Sinhagad Fort was commanded by Udaybhan Rathore, a Rajput general who was loyal to Aurangzeb. He had about 1200-1800 troops, 12 sons, and an elephant named Chandravali. He also had a large cannon named Kalal Bangadi that could fire heavy iron balls. The fort was well-stocked with food and ammunition and had a strong defence.
The Maratha army that attacked the fort was led by Tanaji Malusare, a childhood friend and trusted general of Chatrapati Shivaji Maharaj. He had about 500 Mavala cavalrymen, who were known for their bravery and loyalty. He also had his brother Suryaji Malusare and his uncle Shelar Mama with him. He had planned to attack the fort with a larger force, but Chatrapati Shivaji Maharaj had asked him to postpone the attack as he was busy with other matters. However, Tanaji decided to go ahead with the attack with a smaller force, saying "Gad ala pan Sinha gela" (The fort is captured but the lion is gone).
Tanaji and his men reached the base of the fort at night and divided themselves into two groups. One group led by Suryaji attacked the Kalyan Darwaza (southeast gate) while the other group led by Tanaji attacked the Pune Darwaza (northeast gate). Tanaji had a pet monitor lizard named Yashwanti, which he used to climb up the steep walls of the fort with a rope ladder attached to its back. He managed to reach the top of the wall and threw down the rope ladder for his men to climb up.
As soon as Tanaji and his men entered the fort, they raised loud war cries of "Har Har Mahadev" and "Jai Bhavani". They engaged in a fierce fight with the Mughal soldiers who were taken by surprise. Tanaji fought his way towards Udaybhan's position near the Kalal Bangadi cannon. He encountered Udaybhan in a one-on-one duel and wounded him severely. However, Udaybhan also managed to strike Tanaji with his sword and killed him on the spot.
When Suryaji heard of his brother's death, he rushed to his aid with more reinforcements. He saw Udaybhan lying on the ground and finished him off with his sword. He then took charge of the Maratha forces and continued to fight until they captured the entire fort. He also hoisted the saffron flag of Chatrapati Shivaji Maharaj on the fort.
Aftermath:
The news of Tanaji's death reached Chatrapati Shivaji Maharaj, who was deeply saddened by his loss. He said "Gad ala pan Sinha gela" (The fort is captured but the lion is gone) and renamed the fort as Sinhagad (Lion's Fort) in his honour. He also conferred the title of Sinhagad Killadar (Fort Commander) on Shelar Mama, who had fought bravely in the battle.
The Battle of Sinhagad was a significant victory for Chatrapati Shivaji Maharaj and his Swarajya (self-rule) movement. It boosted the morale of his soldiers and inspired them to fight for their freedom from Mughal oppression. It also demonstrated Chatrapati Shivaji Maharaj military genius and strategic planning. The battle also marked the beginning of Chatrapati Shivaji Maharaj campaign to recapture all the forts that he had surrendered under the Treaty of Purandar.
Significance Of Sinhgad Fort: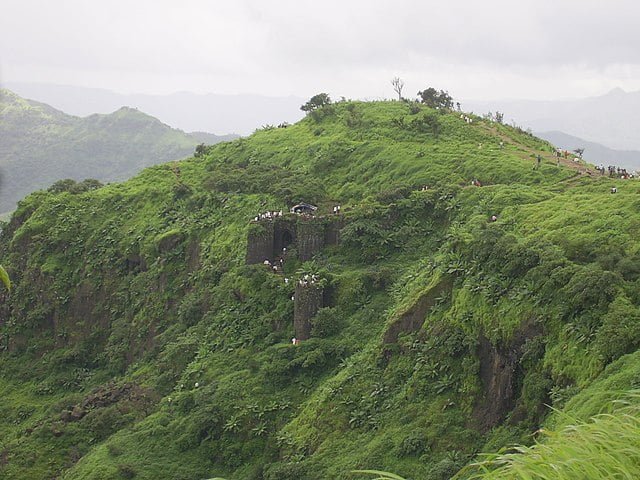 Sinhgad Fort is not only a historical monument but also a symbol of Maratha pride and patriotism. It showcases the courage, sacrifice, and loyalty of Tanaji Malusare and his men who fought against all odds to win back their land from foreign invaders. It also reflects the culture, architecture, and art of the Maratha era.
Sinhgad Fort is also a popular tourist attraction that attracts thousands of visitors every year. It offers a panoramic view of the surrounding landscape and has many points of interest
Tourist Attraction On Sinhgad Fort:
Sinhgad Fort has many points of interest that showcase its historical and cultural significance. Some of the main attractions are:
Kalyan Darwaza and Pune Darwaza: These are the two gates that lead to the fort from different directions. They are named after the cities of Kalyan and Pune, which were important trade centres during the Maratha rule. The gates are made of stone and have intricate carvings and inscriptions on them. They also have watchtowers and bastions for defence purposes.
Tanaji Kada: This is the steepest cliffside on Sinhagad Fort, where Tanaji Malusare and his men climbed up with the help of a monitor lizard. It offers a breathtaking view of the valley below and the Khadakwasla Dam in the distance. It is also a popular spot for rappelling and rock climbing .
Khandkada Machi: This is the eastern tip of Sinhagad Fort, where a fierce battle took place between the Marathas and the Mughals. It has a memorial for Tanaji Malusare and his men, who sacrificed their lives for the fort. It also has a small temple dedicated to Goddess Kali, who is believed to have helped the Marathas in the battle .
Kalavanteen Buruj: This is a turret on the fort that was used by Shivaji's mother Jijabai to watch over her son's activities. It is also said that Shivaji used to meet his wife Saibai here. It has a beautiful view of the surrounding hills and forests .
Zunjar Buruj: This is another turret on the fort that was used by Shivaji's son Sambhaji to practice archery and shooting. It has a cannon mounted on it that was used to fire at the enemies. It also has a small temple dedicated to Lord Hanuman, who is considered as the patron deity of warriors .
Daru Kothar: This is a storehouse on the fort that was used to store grains, weapons, and ammunition. It has a secret tunnel that leads to Rajgad Fort, which was Shivaji's capital. The tunnel was used as an escape route in case of emergencies .
Kadelot Point: This is a point on the fort where criminals and traitors were thrown off to their death. It has a deep gorge below it that makes it impossible to survive the fall. It also has a small shrine dedicated to Lord Shiva, who is believed to grant salvation to those who die here .
Horse Stable Caves: These are caves on the fort that were used to shelter horses and elephants during wars. They have natural ventilation and water sources that made them suitable for animals. They also have carvings of elephants and horses on their walls .
Some of the activities that can be done at Sinhagad Fort are:
Trekking: Sinhagad Fort is a popular destination for trekkers who want to experience the thrill of climbing up the steep slopes and rocky patches of the fort. There are many trekking trails that lead to the fort from different directions, such as Atkarwadi, Kondhanpur, Thoptewadi, Kalyan Darwaza, etc. The trekking difficulty level ranges from easy to moderate and takes about 2-3 hours to complete. The best time to trek is during the monsoon or winter seasons, when the weather is cool and pleasant .
Camping and Stargazing: Sinhagad Fort also offers a great opportunity for camping and stargazing at night. There are various stay options available on the fort, such as MTDC resort, guest houses, dormitories, tents, etc. The camping experience is enhanced by the bonfire, music, games, and local food that are arranged by the hosts. The stargazing experience is mesmerizing as one can see the clear sky and the twinkling stars above the fort .
Birdwatching: Sinhagad Fort is also a paradise for birdwatchers who want to spot various species of birds that inhabit the valley around the fort. Sinhagad Valley is one of the best places for birdwatching near Pune, as it has a rich biodiversity and a variety of habitats such as forests, grasslands, wetlands, etc. Some of the birds that can be seen here are Indian Peafowl, Malabar Whistling Thrush, Asian Paradise Flycatcher, Indian Pitta, Oriental Magpie Robin, Yellow-throated Bulbul, Crested Bunting, etc .
Photography: Sinhagad Fort is also a perfect place for photography enthusiasts who want to capture the beauty and charm of the fort and its surroundings. The fort offers many scenic spots and viewpoints that offer a panoramic view of the landscape and the skyline. The fort also has many historical and cultural monuments and structures that add to its appeal. The best time to take photos is during sunrise or sunset when the light is soft and golden .
Rappelling and Rock Climbing: Sinhagad Fort also offers a chance for adventure seekers who want to try rappelling and rock climbing on its walls and cliffs. Tanaji Kada is one of the most popular spots for these activities as it has a vertical drop of about 200 feet. The rappelling and rock climbing sessions are conducted by professional instructors who provide all the necessary equipment and safety measures. The activities are suitable for beginners as well as experts and are conducted throughout the year .
FAQs:
Q1. What is the best time to visit Sinhagad Fort?
A1. The best time to visit Sinhagad Fort is during the monsoon (July to September) or winter (October to March) seasons, when the weather is pleasant and comfortable for sightseeing and trekking. The fort looks green and lush during the monsoon, with waterfalls and streams flowing around it. The fort also offers a clear view of the sunrise and sunset during the winter, with misty clouds covering it.
Q2. What are the facilities available at Sinhagad Fort?
A2. Sinhagad Fort has basic facilities such as toilets, drinking water, parking, museum, and security guards available for visitors. There are also many stalls and vendors that sell snacks, beverages, souvenirs, and local delicacies such as bhakri (flatbread), pitla (gram flour curry), zunka (spicy gram flour dish), vangyache bharit (eggplant mash), matki usal (sprouted beans curry), kanda bhaji (onion fritters), dahi (curd), tak (buttermilk), etc
Q3. What are the activities that can be done at Sinhagad Fort?
A3. Sinhagad Fort offers many activities for visitors such as trekking, camping, birdwatching,
Conclusion:
Sinhgad Fort is a must-visit place for anyone who wants to explore the history, culture, nature, and adventure of Maharashtra. It is a place where one can relive the glory and bravery of Shivaji and his generals who fought for their freedom and dignity. It is also a place where one can enjoy the scenic beauty and tranquility of nature and indulge in various activities that suit their interests and preferences. Sinhagad Fort is a place that offers something for everyone and leaves a lasting impression on its visitors.