Scandal Point is a tourist attraction located on the Mall Road in Shimla, the capital city of Himachal Pradesh, India. Scandal Point is a flat platform that offers a panoramic view of the snow-capped mountains and valleys. Scandal Point is also a historical and cultural spot that has an intriguing story behind its name. Scandal Point is a must-visit destination for anyone who wants to experience the charm and beauty of the Queen of Hills. Visit during One Day trip Shimla Local Sightseeing Package – Visit Famous Place
Location of Scandal Point
Scandal Point is located on the Mall Road, which is the main street of Shimla city, which is about 350 km away from Delhi, the capital of India. Scandal Point is easily accessible by road, rail and air from various parts of India. The nearest airport is Chandigarh International Airport, which is about 120 km away from Shimla. The nearest railway station is Shimla Railway Station, which is about 2 km away from Scandal Point. There are also regular bus services to Shimla from Delhi, Chandigarh, Manali and other cities.
Timing/Entry Fees Scandal Point
Scandal Point is open for visitors throughout the year. There is no entry fee for visiting The Point, but there are charges for parking and photography. The parking charge is Rs. 10 per vehicle, and the photography charge is Rs. 50 per camera.
How to Reach Scandal Point
Scandal Point can be reached by road from various parts of Shimla and nearby towns. There are auto rickshaws and taxis available for hire from the railway station, bus stand and other places. Alternatively, one can walk or cycle to The Point from nearby areas.
Things to Do/Must See Scandal Point
There are many things to do and see at Scandal Point, such as:
Sightseeing: The main attraction of Scandal Point is sightseeing for the scenic and panoramic view of the snow-capped mountains and valleys. The Point also has some lush green forests and gardens that add to its beauty and freshness. One can enjoy the nature walk or trek along the winding paths of the Point and admire the flora and fauna.
Shopping: Scandal Point also has some local shops that sell various items such as handicrafts, woollens, jewellery, books, antiques and souvenirs. The Point also has some famous bakeries and confectioneries that sell mouth-watering pastries, cakes, chocolates and ice creams.
Dining: Scandal Point also has some restaurants and cafes that offer delicious cuisines such as Indian, Chinese, Continental and Tibetan. The Point also has some famous dhabas that serve authentic Himachali dishes such as siddu, madra, chha gosht and patande.
Exploring: The Point also has some historical and cultural landmarks that showcase the colonial legacy and the local heritage of Shimla. Some of these landmarks are:

Mahatma Gandhi Statue: This is a bronze statue of Mahatma Gandhi, the father of the nation, that was unveiled in 2010 by Sonia Gandhi, the then president of Indian National Congress. The statue depicts Gandhi in his trademark dhoti and shawl.
Lala Lajpat Rai Statue: This is a statue of Lala Lajpat Rai, one of the freedom fighters of India, that was erected in 1977 by Jagjivan Ram, the then defence minister of India. The statue depicts Rai in his traditional attire and turban.
Band Stand: This is a circular platform that was built in 1907 by Lord Curzon, the then viceroy of India. The band stand was used for musical performances by British army bands during summer evenings.
Scandal Point Nearby Tourist Attractions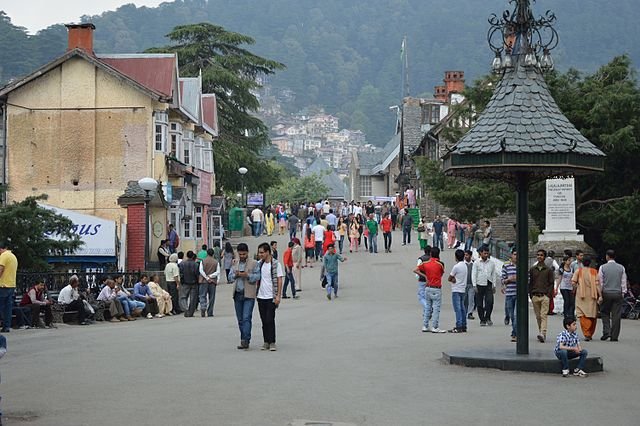 There are many other tourist attractions near Scandal Point that are worth visiting, such as:
Jakhoo Hill: This is the highest peak in Shimla that offers a bird's eye view of the city. Jakhoo Hill also has a Hindu temple dedicated to Lord Hanuman, who is believed to have rested here while searching for Sanjeevani herb.
Kali Bari Temple: This is a Hindu temple situated on Bantony Hill, Shimla. The temple is dedicated to fearsome reincarnation of Goddess Kali, known as Shyamala, after which the Shimla city is named.
Viceregal Lodge: This is a majestic building that served as the residence of the British Viceroy of India from 1888 to 1947. Viceregal Lodge also houses the Indian Institute of Advanced Study (IIAS) that conducts research in humanities and social sciences.
The Ridge: This is a large open space that runs along the Mall Road in Shimla. The Ridge is the main square of the city and offers a panoramic view of the snow-capped mountains. The Ridge is also a historical and cultural landmark that showcases the colonial legacy and the local heritage of Shimla.
Significance of Scandal Point
Scandal Point is not only a tourist attraction, but also a source of romance and mystery for the people of Shimla. It is a place that celebrates the spirit and culture of the hill town. It is also a place that reflects the diversity and harmony of Shimla, as it has people of different religions, such as Hinduism, Christianity and Islam, who visit and worship here. It is also a place that preserves the historical and architectural heritage of Shimla, as it has buildings and structures that date back to the colonial era.
FAQ
Some of the frequently asked questions about Scandal Point are:
Q: How big is Scandal Point?
A: The Point is about 100 meters in diameter.
Q: How old is Scandal Point?
A: The Point was named in 1892 after the elopement of the Maharaja of Patiala and the Viceroy's daughter.
Q: What is the best time to visit Scandal Point?
A: The Point can be visited throughout the year, as the climate is pleasant and cool. However, the peak season is from April to June and from September to November, when the weather is clear and sunny.
Conclusion
Scandal Point is a must-visit destination for anyone who wants to experience the charm and beauty of the Queen of Hills. It is a place where one can sightsee, shop, dine and explore in a romantic and historic atmosphere. It is a place where one can enjoy the views of nature while sipping a cup of coffee or tea. It is a place where one can experience the glory and spirit of Shimla.