Are you looking for a refreshing and soulful getaway from the hustle and bustle of Mumbai? Do you want to experience the divine grace and blessings of Sai Baba, one of the most revered saints in India? If yes, then you should consider booking a Mumbai to Shirdi tour package by cab, which will take you on a memorable journey through the scenic and spiritual landscapes of Maharashtra.
Shirdi is a small town in the Ahmednagar district of Maharashtra, which attracts millions of devotees every year who come to pay homage to Sai Baba, who lived and preached here in the late 19th and early 20th century. Sai Baba's teachings of love, compassion, and universal brotherhood have inspired people from all walks of life and faiths. His samadhi (tomb) and shrine are the main attractions in Shirdi, where people can witness the daily rituals and ceremonies, participate in the prayers and bhajans (devotional songs), and seek his guidance and miracles.
The Mumbai to Shirdi tour package by cab is a convenient and comfortable way to visit Shirdi from Mumbai, as it allows you to travel at your own pace and schedule, without having to worry about the public transport or driving hassles. You can choose from a variety of cabs, ranging from hatchbacks to sedans to SUVs, depending on your budget and preference. You can also customize your itinerary according to your interests and time availability, as there are many other attractions along the way that you can explore.
The Mumbai to Shirdi tour package by cab typically covers a distance of about 240 km one way, which takes around 5 hours to reach. The route passes through some of the most beautiful and historic places in Maharashtra, such as Nashik, Trimbakeshwar, Shani Shingnapur, and Ellora Caves. You can stop at any of these places and enjoy their natural beauty, cultural heritage, and religious significance. You can also indulge in some local delicacies and shopping along the way.
Things to do /Must See / Tourist attraction in Shirdi: Must Visit in Mumbai to Shirdi tour Package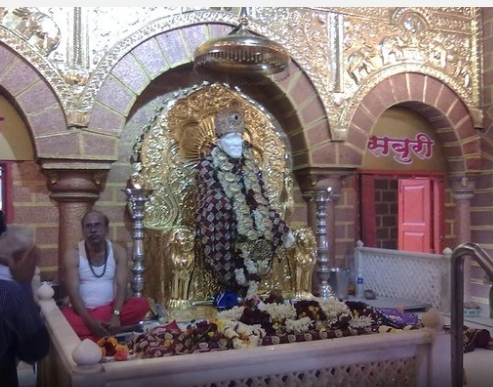 Sai Baba Samadhi Temple is a sacred shrine that commemorates the life and teachings of Shri Sai Baba, a revered…
Shirdi is a town in Maharashtra, India, that is famous for being the abode of Sai Baba, a revered saint…
Shirdi is a town in Maharashtra, India, that is famous for being the abode of Sai Baba, a revered saint…
Similar Tour Package From Mumbai
Similar Tour package to Shirdi
Overview of Mumbai to Shirdi tour Package
Shirdi is not only a place of worship, but also a place of wonder and awe. There are many attractions in Shirdi that showcase the life and legacy of Sai Baba, and offer a glimpse into his divine power and grace. Here are some of the must-see attractions in Shirdi:
Shri Sai Baba Samadhi Temple: This is the main pilgrimage site in Shirdi, where Sai Baba's samadhi (tomb) and shrine are located. The temple was built in 1922 by a devotee named Gopalrao Booty, who had a vision of Sai Baba asking him to construct a temple at the spot where he used to sleep. The temple is open in Morning 4.45 am to 10.00 PM Every day, and hosts various rituals and ceremonies throughout the day, such as the kakad aarti (morning prayer), the madhyan aarti (noon prayer), the dhoop aarti (evening prayer), and the shej aarti (night prayer). Devotees can also participate in the abhishek (bathing) of Sai Baba's idol, the darshan (viewing) of Sai Baba's relics, and the prasad (offering) distribution. The temple complex also houses a museum, a library, a canteen, and other facilities for the pilgrims.
Dwarkamai Mosque: This is a place of spiritual importance, as it is where Sai Baba lived for most of his life. The mosque was originally an old and dilapidated structure, but Sai Baba transformed it into a dwelling place for himself and his devotees. He used to sit on a stone near the dhuni (sacred fire) and bless people with his words and deeds. He also performed many miracles at the mosque, such as curing diseases, granting wishes, and lighting lamps with water. The mosque still preserves the dhuni, the stone, and other objects used by Sai Baba, such as his grinding stone, his wooden sandals, his chillum (smoking pipe), and his satka (stick).
Other notable attractions in Shirdi: Apart from the temple and the mosque, there are many other places in Shirdi that are associated with Sai Baba's life and teachings. Some of them are:

Gurusthan: This is the spot where Sai Baba was first seen as a child by a local villager named Mahalsapati. He was sitting under a neem tree, meditating and chanting. The villager addressed him as "Sai", which means "saint" in Marathi. The name stuck with him ever since. The neem tree still stands at the site, and is believed to have healing properties.
Chavadi: This is the resting place of Sai Baba, where he used to sleep every alternate night after leaving Dwarkamai. He would walk to Chavadi in a procession accompanied by his devotees, who would sing and dance along the way. The procession is still carried out every Thursday night as a mark of respect and devotion. Chavadi houses some of Sai Baba's belongings, such as his bed, his padukas (footprints), and his portrait.
Lendi Baug: This is a beautiful garden where Sai Baba used to spend time watering the plants, feeding the animals, and meditating under a neem tree. He also lit a lamp here that burns continuously till date. The garden has a well that was dug by Sai Baba himself, and a shrine dedicated to his devotee Nanavali.
Highlights of Mumbai to Shirdi Tour Package
Trip Duration: 12hr
Professional Driver
Neat and Clean AC Cab
Pickup & Drop From Home / Hotel Mumbai