If you are looking for a place to worship and seek blessings from the Lord of love and joy, then ISKCON Temple in Bangalore is a perfect destination for you.ISKCON Temple-Bangalore is a divine and delightful temple that is dedicated to Lord Krishna, the supreme personality of Godhead, and his consort Radha, the embodiment of pure love, famous temple and beautiful place in Bangalore, visit during Bangalore Local sightseeing.
The temple is a branch of the International Society for Krishna Consciousness (ISKCON), a worldwide movement that promotes the teachings and practices of bhakti yoga, or the yoga of devotion. The temple is also a center of spiritual and cultural activities that attract many devotees and visitors every year. In this article, we will tell you everything you need to know about ISKCON Temple, including its location, timing/entry fees, how to reach, things to do/must see, significance, FAQs, and conclusion.
Location of ISKCON Temple-Bangalore:
ISKCON Temple is located in Rajajinagar area of Bangalore city, in Karnataka state. It is situated about 7 km from the Bangalore Railway Station and 35 km from the Kempegowda International Airport. The temple is surrounded by other attractions such as Orion Mall, World Trade Center, Rock Garden, etc.
Timing/Entry Fees ISKCON Temple-Bangalore:
The temple is open to visitors throughout the year, from 4:15 am to 5 am, 7:15 am to 12:50 pm, and 4 pm to 8:30 pm. There is no entry fee for visiting the temple. However, you may have to pay a nominal fee for some activities or attractions at the temple such as prasadam (offering), abhishekam (bathing ceremony), etc.
How to Reach ISKCON Temple-Bangalore: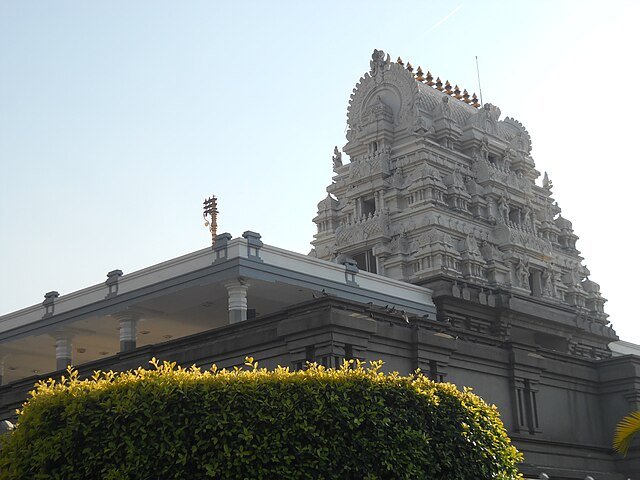 The easiest way to reach ISKCON Temple-Bangalore is by road. You can take a bus or a taxi from Bangalore city or airport to reach the temple. You can also take a metro train to Mahalakshmi Metro Station and then walk or take a rickshaw to reach the temple.
Things to Do/Must See ISKCON Temple-Bangalore:
There are many things to do and see at ISKCON Temple-Bangalore. Some of them are:
Have a darshan of Radha-Krishna. The main attraction of the temple is the idols of Radha-Krishna that are beautifully decorated and adorned with flowers and jewels. The idols have a charming and blissful expression on their faces and have a flute and a lotus in their hands respectively. The idols are worshipped with love and devotion by the devotees who offer prayers and seek blessings from them.
Witness the festivals and rituals. The temple celebrates many festivals and rituals throughout the year that showcase the devotion and culture of the devotees. Some of them are Janmashtami (the birthday of Lord Krishna), Holi (the festival of colors), Radhashtami (the birthday of Radha), Govardhan Puja (the worship of Govardhan hill), etc.
Explore the temple's architecture and art. The temple is a marvel of architecture and art that has a modern design with traditional elements. The temple has four gopurams (towers) that have intricate carvings and paintings on them that depict various scenes from Hindu mythology and history. The temple also has a gold-plated flag post that has a height of 56 feet and a weight of 750 kg.
Visit the other temples nearby. You can also visit some other temples near the ISKCON Temple that are worth seeing. Some of them are Sri Radha Damodara Temple (a temple dedicated to Lord Krishna's childhood form), Sri Srinivasa Govinda Temple (a temple dedicated to Lord Vishnu's incarnation), Sri Prahlada Narasimha Temple (a temple dedicated to Lord Vishnu's half-man half-lion form), etc.
Enjoy the prasadam and shop. The temple also offers prasadam (offering) and shop that provide some refreshments and souvenirs for the visitors. The prasadam consists of some delicious vegetarian dishes that are prepared with love and offered to Radha-Krishna first. The shop offers some products such as books, CDs, DVDs, clothes, accessories, etc. that are related to spirituality and culture.
Significance of ISKCON Temple-Bangalore:
ISKCON Temple-Bangalore is not only a tourist attraction but also a place of spiritual importance for the Hindus. The temple has many benefits and blessings for those who visit it with faith and devotion. Some of them are:
The temple fulfills the wishes and desires of those who pray to Radha-Krishna sincerely.
The temple bestows love and joy on those who worship Radha-Krishna regularly.
The temple protects from dangers and difficulties those who seek refuge in Radha-Krishna.
The temple grants happiness and prosperity to those who meditate on Radha-Krishna.
The temple purifies and elevates the soul of those who serve Radha-Krishna selflessly.
FAQs
Here are some frequently asked questions about ISKCON Temple-Bangalore:
Q: How much time does it take to explore the temple?
A: It takes about 2 hours to explore the temple thoroughly.
Q: Is there any accommodation facility near the temple?
A: Yes, there are some guest houses near the temple where you can stay overnight with prior booking.
Q: Is there any food or water facility at the temple?
A: Yes, there is a prasadam hall at the temple where you can buy prasadam (offering) or snacks and water. However, it is advisable to carry your own food and water as well.
Q: Is there any medical facility near the temple?
A: No, there is no medical facility near the temple. You should carry your own first aid kit and medicines in case of any emergency.
Conclusion
ISKCON Temple-Bangalore is a must-visit place for anyone who believes in God or wants to experience God's grace . It is a place where you can have ,a direct connection ,with Radha-Krishna ,who are ,the supreme personality ,of Godhead ,and his consort ,the embodiment ,of pure love ,explore ,the temple's architecture ,and art ,that display ,the modern design ,with traditional elements ,witness ,the festivals ,and rituals ,that showcase ,the devotion ,and culture ,of devotees ,enjoy ,the prasadam ,and shop ,that provide ,some refreshments ,and souvenirs ,for visitors . It is a place that will leave you with peace ,and joy in your heart .