Bhopal, the capital city of Madhya Pradesh, is known for its rich and diverse cultural heritage. One of the best places to witness this heritage is the Madhya Pradesh Tribal Museum, which showcases the life and culture of various tribal communities of the state. Madhya Pradesh Tribal Museum is a unique and innovative institution that presents the tribal art, crafts, costumes, rituals and lifestyles in an interactive and engaging way. Here are some of the reasons why you should visit this museum when you are in Bhopal. Madhya Pradesh Tribal Museum is famous tourist attraction in Bhopal, visit during Bhopal Local Sightseeing By cab
Location of Madhya Pradesh Tribal Museum
The museum is located on the Science Center Road, near Shyamla Hills in Bhopal. The museum is about 7 km away from Bhopal Junction Railway Station and about 14 km away from Raja Bhoj Airport.
Timing/Entry Fees Madhya Pradesh Tribal Museum
The museum is open to visitors from 12 PM to 7 PM on all days except Mondays and national holidays. There is an entry fee of Rs. 10 for Indians and Rs. 200 for foreigners for visiting the museum. There is no fee for children below 12 years and senior citizens above 60 years.
How to Reach Madhya Pradesh Tribal Museum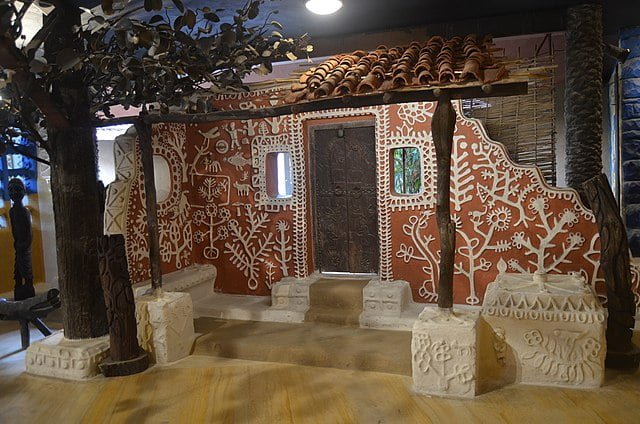 You can reach the museum by various modes of transport such as bus, cab or auto. There are frequent buses that ply from different parts of the city to the museum. You can also hire a cab or an auto from any point in the city to reach the museum.
Things to do/Must See Madhya Pradesh Tribal Museum
There are many things to do and see at the museum. Some of them are:
Explore the five galleries that depict the cultural diversity, tribal life, tribal aesthetic, tribal spiritual world and Chhattisgarh culture of various tribes of Madhya Pradesh. You can see various exhibits such as paintings, sculptures, masks, musical instruments, jewellery, pottery, etc.
Visit the Rakkhu Gallery that displays the games and toys of children of various tribal communities. You can also play some of these games and have fun.
Visit the Chinhari Gallery that showcases the handicrafts and products made by tribal artisans. You can also buy some of these items from the museum shop.
Participate in various activities and programs that are organized by the museum such as workshops, seminars, lectures, film shows, festivals, etc. You can also interact with various experts and scholars who visit the museum.
Visit the library and exhibition hall that provide information and resources on tribal culture and anthropology.
Significance of Madhya Pradesh Tribal Museum
The museum is not only a place of learning but also a place of appreciation and celebration. The museum has the following significance:
It is one of the most innovative and creative museums in India that uses various media and techniques to present tribal culture.
It is a living museum that involves various tribal communities and stakeholders in its creation and management.
It is a repository of Madhya Pradesh's rich and diverse tribal heritage that reflects its identity and pride.
It is a platform for dialogue and exchange among various cultures and disciplines.
It is a centre for research and education in tribal culture and anthropology.
FAQ's
Q: Is photography allowed inside the museum?
A: Yes, photography is allowed inside the museum with a valid ticket.
Q: Is there any facility for food and water at the museum?
Conclusion
The Madhya Pradesh Tribal Museum is a must-visit destination for anyone who wants to experience the tribal culture and heritage of Madhya Pradesh. The museum is a place of wonder and discovery, where you can see, hear and feel the stories of various tribal communities in their own voice and style. The museum is also a place of respect and harmony, where you can appreciate the similarities and differences among various cultures and communities. Whether you are a student, a researcher, a tourist or a citizen, you will find something to learn and enjoy at the museum.