Bhandardara is a small village in the Ahmednagar district of Maharashtra, India. It is known for its natural beauty and historical significance. One of the main attractions of Bhandardara is the Umbrella Falls, which is a seasonal waterfall that forms under the Wilson Dam on the Pravara River. The waterfall resembles an umbrella as it gushes out from a small opening over a semicircular rock. Visit during Mumbai to Bhandardara One day Trip By cab
Overview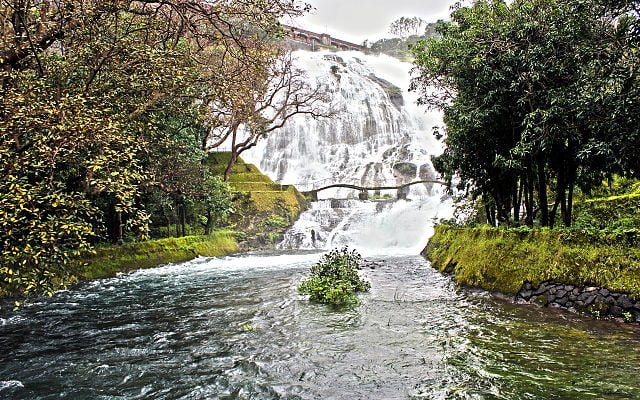 Umbrella Falls is one of the best waterfalls in Maharashtra and a must-visit place during monsoon. The waterfall is located near the Wilson Dam, which is about 500 m from Bhandardara Bus Stop. The waterfall is the chief source of hydro power in the Bhandardara region.
The waterfall can be viewed from a footbridge that connects the Pravara River to the other side of the dam. The footbridge offers a close view of the waterfall and the dam. The waterfall looks especially beautiful during sunrise and sunset.
The waterfall is also surrounded by lush green hills and forests, creating a picturesque scenery. The waterfall attracts many tourists, photographers, and nature lovers who come to enjoy its beauty and tranquility.
Timing and Entry Fee
Umbrella Falls is open for visitors throughout the year, but the best time to visit is during the monsoon season (July to September), when the waterfall is at its full glory and the scenery is lush green. The waterfall is open from 12:00 AM to 11:59 PM every day. There is no entry fee to visit the waterfall.
Location
Umbrella Falls is located at Bhandardara, near Wilson Dam, Ahmednagar 422604, India. The nearest railway station is Igatpuri, which is about 45 km away. The nearest airport is Nashik, which is about 90 km away.
One can reach Umbrella Falls by road via the Mumbai-Nashik highway or the Pune-Nashik highway. There are buses and taxis available from Mumbai, Pune, Nashik, and Igatpuri to Bhandardara. From Bhandardara, one can walk to the waterfall.
Significance
Umbrella Falls is not only a popular tourist destination but also a place of historical and cultural importance. It is believed that Umbrella Falls was the home of sage Agastya, who received the celestial river Ganga from Lord Shiva. The river was later named Pravara by Lord Rama, who visited Umbrella Falls with his wife Sita and brother Lakshmana during their exile.
Umbrella Falls has also witnessed several events related to Hindu epics and scriptures, such as Ramayana and Mahabharata. It is said that Rama killed Maricha, a demon who disguised as a golden deer, near Umbrella Falls. It is also said that Hanuman met Ravana's brother Vibhishana near Umbrella Falls and convinced him to join Rama's army.
Umbrella Falls has also been a source of inspiration for many poets and writers, such as Saint Dnyaneshwar, Saint Nivruttinath, Saint Eknath, etc.
Information
Umbrella Falls offers a variety of activities and attractions for visitors of all ages and interests. Some of them are:
Sightseeing: One can enjoy the scenic views of the waterfall and the surrounding nature from the footbridge or from the nearby temple. The temple is called Amruteshwar Temple and dates back to the 8th century AD. It is dedicated to Lord Shiva and has intricate sculptures and carvings.
Photography: One can capture some amazing shots of the waterfall and its surroundings with different angles and perspectives. The waterfall looks especially beautiful during sunrise and sunset.
Trekking: One can also trek to various points of interest near Umbrella Falls, such as Ratangad Fort, Kalsubai Peak, Harishchandragad Fort, Sandhan Valley, etc. These treks offer thrilling challenges and stunning views along the way.
Camping: One can also camp near Umbrella Falls or in the nearby villages and experience